Here is an ultimate list of Netflix alternatives for 2021 to watch movies, documentaries and TV series of different genres in high definition quality online.
If you are looking for best Netflix alternative, then check out this list and enjoy instant streaming of thousands movies and TV shows.
In fact, these alternatives support smartphones, smart TV, game console, Windows computer, Mac, tablet and more.
Let's dive right in.
Top 15 Netflix Alternative Websites for Online Streaming 2021
1. Amazon Instant Video
Website: https://amzn.to/2TzZQUG
Amazon Instant Video has more content to offer you than the Netflix itself. From almost every TV show to virtually all the movies, Amazon Instant Video has the biggest collection of the Online content to offer in HD quality.
Besides that, Amazon Instant Video has a big collection of exclusive content originally owned by Amazon including a number of TV shows and movies which are extremely popular among the users.
The movies and TV shows offered on AIV are of the extremely high quality that makes it one of the most preferred media streaming service across. Apart from this, the cost of being an Amazon Instant Video user is pretty decent!
You no need to be a subscriber of AIV to watch your favorite movie, instead, you can just pick your favorite content and purchase it by paying the asked amount as per your suitability!
2. Hulu
Website: http://www.hulu.com/start
Hulu is one of the biggest media streaming websites and the biggest competitor to Netflix in the US.
Hulu offers the original high-quality media content and provides instant access to live and on demand channels. Even it is preferred over Netflix by some of the users.
Initially, Hulu was meant to offer the collection of all the popular and evergreen movie and TV shows but in the recent past, Hulu has been expanded in terms of services and offers live news, entertainment, and sports.
Like Amazon Instant Video, Hulu also offers some of its originally owned contents including The Handmaid's Tale, The Mindy Project, The Path, comedy series Casual along with the upcoming Future Man and The Looming Tower.
If you are a new user to Hulu, you will be provided with one-month free trial offers to know if Hulu fulfill your media streaming needs or you need to try out other options!
Hulu is home to old and new hit TV series like Seinfeld, ER, and Futurama. There are also a few original shows available, including the popular The Handmaid's Tale. What makes Hulu special is that it releases new episodes of some of the most popular shows around a day or so after they are aired on TV. On the other hand, Netflix generally releases an entire season of a certain show at once, so you have to wait longer to start watching it.
Hulu starts at just $5.99 per month but includes ads. There's also an ad-free plan available, which will set you back $11.99 per month. You can also customize Hulu with add-ons including Cinemax, Showtime, Starz, and HBO or even get a plan with Live TV channels (ABC, FOX, CNN, etc.) starting at $64.99 per month. Hulu truly is a great Netflix alternative, but only in the US and Japan. Unlike Netflix, the service isn't available in other countries.Try Hulu
3. Vudu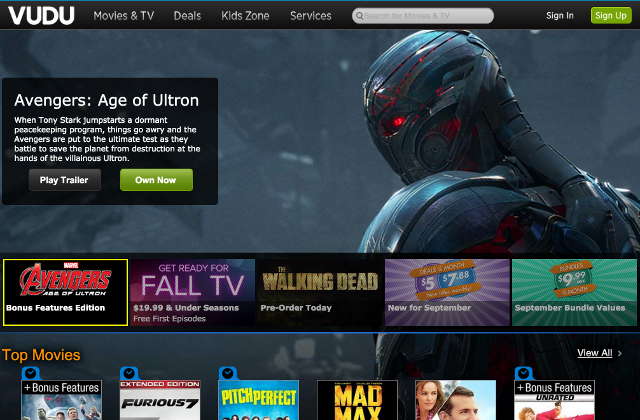 Website: http://www.vudu.com/
Vudu is a yet another media streaming website to rent, buy and watch movies online.
Vudu is certainly making the best Netflix Alternative not just because of the content quality and the competitive price but also due to the well-organized website and easy navigation options.
It offers a great collection of movies in HD quality like the other top movie streaming websites but differs in the concept of subscription. Where most of the popular media streaming websites work on the monthly or yearly subscription basis, Vudu doesn't follow the same approach.
To watch your favorite movies or TV shows on Vudu, you need to buy or rent them by paying the amount mentioned on the website. And the best part is, you can buy your content from Vudu on the best price and can get the best current deal by going to the DEAL section located on the top on Vudu official websites.
4. iTunes
Website: http://www.apple.com/itunes/charts/movie-rentals/
If you are an Apple fan and loves using Apple products, perhaps you will Love iTunes too. I know you might be wondering that how iTunes makes an alternative to Netflix, but trust me, it indeed does.
Till date, we all know iTunes as the music oriented Apple product but in the recent past, it has been upgraded to provide the movies and TV shows as well. Now you can buy your favorite movies and TV series from iTunes or can rent them as per your suitability.
Like Vudu, iTunes also doesn't offer the one-month or one-year subscription and offers movies and TV shows on the purchase basis. That's why iTunes is loved by those who are not keen movie watcher and watch movies occasionally instead!
So from now on, don't consider iTunes just for music but for movies and TV shows. If by chance, buying media content on iTunes seems costly to you, move further to know about the free Netflix Alternative.
5. Youtube
Website: https://www.youtube.com/
Do I need to explain anything about Youtube that how it's one of the biggest online media giants?
Youtube is one such website which doesn't only provide music videos or short length videos but it's a full fledged media streaming website which offers almost every content which is offered by any other big media streaming website including Netflix.
There are all the movie teasers, some of the full-length movies of almost every genre and the TV shows that you can prefer watching on other streaming websites.
But even If it lacks in content as compared to Netflix, using Youtube as Netflix replacement is still pretty fair deal as Youtube is completely free to use unlike most of the services mentioned.
6. Crackle
Website: http://www.crackle.com/
If you are looking for a Netflix Alternative that is FREE and offers almost the similar content to Netflix, Crackle is probably the one for you! There are almost all the TV shows and movies available on Crackle that you can find on Netflix.
However, crackle do shows commercial ads but it's not a bad deal if you are getting access to all the content free of cost!
Crackle is no less than to any other top premium streaming service in any manner. Crackle has a big library of all the popular TV shows, movies regardless of the categories and some Originals exclusively available on crackle.
Action, comedy, thriller or drama, you can find contents from all the categories on Crackle, all just for free! Another plus that makes Crackle one of the leading Netflix alternatives is the number of supported devices.
Crackle is available on nearly all the device including Android, Roku, iPhone, Xbox, smart TVs, tablets etc!
The main reason why Crackle is one of the best Netflix alternatives is that it's completely free. It also offers plenty of great content, including cult classics, critically acclaimed Hollywood films, and popular TV shows. There are around 150 feature-length movies and 75 shows available on the platform.
There are a few drawbacks to consider, with the biggest one being that the service is ad-supported. You will usually have to sit through a 30-second commercial before your movie or show begins, followed by up to three additional ads for shows and nine for movies longer than an hour and a half.Try Crackle
7. Popcorn Flix
Website: http://www.popcornflix.com/
Popcornflix is yet another Alternative to Netflix for those who are short on budget and looking for some free alternatives.
Popcorn has a huge collection of full-length HD movies, documentaries, Tv shows and some original web series, specifically owned by the Popcornflix that is a true pleasure to watch for the movie lovers.
Besides that, the best thing which makes Popcornflix one of the great Netflix alternatives is the website structure.
Popcornflix is a well organized online media streaming website where movies from all the genres including Action, Comedy, Horror, Drama, Documentaries, Romance, Family etc are available that too in a well-structured manner.
Apart from this, there are several other sections on the website like All movies, New Arrivals, Most Popular, Thriller, Family/Kids, Documentary / Short, and Sci-Fi to choose from which makes discovering the best content on PopcornFlix total fun and seamless.
8. Amazon Prime
Website: https://www.primevideo.com
If you are a big movie and TV shows enthusiasts and loves watching them as soon as they are released, certainly Amazon Prime is for you.
Many people confuse the Amazon Instant Video and Amazon Prime as the same service but they are completely different to each other in terms of content and the pricing approach.
You can watch nearly all the third party content on Amazon Prime including all the latest and evergreen movies of all genres, all the TV shows, documents and various Amazon originals which are highly appreciated by the users.
The best part of Amazon is the best quality of contents it offers, whether it's Tv shows or movies, All the contents offered by Amazon prime are in HD quality.
To watch the Amazon prime contents on your mobile, computer or smart TV, you need to subscribe to the Amazon Prime and be its paid user by paying only Rs 499/ year as soon as the free trial of 7 days ends!
9. Acorn.TV
Website: https://acorn.tv/
If you love British shows, you will also love Acron.Tv. Having a big collection of British television shows and reasonable subscription price, Acorn TV streams world-class mysteries, dramas, and comedies from Britain and beyond.
Acron.Tv is updated quite frequently with your favorite series and can be used for about a week as a free trial period. After trying Acron Tv of a week, if you find it worth going for, you can be its subscriber by just paying a $4.99 a month.
Acron Tv has a large content library to browse from and offers quality content. The best feature of Acron which you don't always see in other media streaming website is the schedule of the Tv shows and movies.
There is an option SCHEDULE On the top of the website which informs you about the upcoming shows on Acron TV. Besides that, Acron Tv is available on most of the smart devices including Roku, Apple TV, Samsung Smart TV, iPhone, iPad, web and etc.
Overall, Acron Tv is also an option to consider if you are in no mood to continue with Netflix anymore!

Acorn TV is home to classic and current shows from Britain, Ireland, Australia, and a few other countries. It's a fantastic Netflix alternative, offering popular TV shows like Inspector George Gently, Doc Martin, Midsomer Murders, and plenty of others. Most Americans are not familiar with these shows, but trust me, they are definitely worth watching. There are also a few movies available, but the selection isn't vast.
Acorn TV isn't as widely available as Netflix, as you can only get it in the US and Canada. It costs $5.99 per month in the states and doesn't include ads. The biggest drawback of the service is that, unlike Netflix, you can't download content to watch it offline.Try Acorn TV
10. SnagFilms
Website: http://www.snagfilms.com/
SnagFilms is not perhaps the best Netflix alternative but it indeed offers great contents in terms of movies and TV shows which you might love watching!
It is an absolutely free to use online media streaming website which doesn't ask you to pay a penny for watching your favorite movies or TV shows.
The website is extremely well structured and very well categorized in different categories on the home page itself. Snagfilms offers a free collection of over 10, 000 movies to choose from.
Besides that, there are is a big library of TV shows categorized in different genres which you can get access to by going to the Shows option on the top of the home page!
11. Afdah
Website: https://afdah.info/
Afdah is a popular free video streaming service and offers you exclusive access to a wide range of movies and TV shows for watching online without registration. Its interface is user friendly, well managed and free from ads like Netflix.
It is compatible with iPad, iPhone and Android. Here you can sort movies by year, country and language.
Furthermore, it lists Cinema movies, featured movies and HD movies in sidebar menu.
In one line, I will say Afdah is a best free alternative to Netflix. So if you are the one who don't have budget and looking for a good Netflix alternative, give a try to Afdah.
12. LookMovie
Website: https://lookmovie.ag/
LookMovies is an ads free streaming platform which lets you watch trending movies & TV shows in high definition quality without signing up.
Its filter feature makes it better than other platforms like Netfilx. To watch a particular movie, click on filter section, then choose genre, year, rating and click on submit button.
This way, LookMovie will show you a list of relevant movies. Rest of features are similar to other mentioned movie streaming websites.
13. Fmovies
Website: https://www11.fmovies.io/
If you are looking for a free Netflix alternative, you can consider Fmovies. It is very popular movie streaming site like 123movies & Solarmovie for instant streaming of movies and TV shows in HD quality with no registration.
It contains some commercials like other free movies streaming websites. Media content is well organized like YesMovies. Also, it offers several options to navigate.
It lets you watch most of genres movies including action, adventure, animation, crime, romance and more.
If you have problem in playing movie, try alternate servers. It also supports Chromecast and Airplay.
14. Vumoo
Website: http://vumoo.to/
Vumoo is first choice for many movie lovers for watching free movies & TV Series online without downloading & signing up.
If you are not happy with above Netflix alternatives, you can give a try to once.
However it lacks in several features but still popular due to its clean interface, movies videos quality and largest database.
Vumoo keeps updating its database with upcoming movies. It is best choice if you know which movie you want to watch. Since here you got search bar only, no filter options(genre, country, language, and year etc).
15) HBO Max
HBO's video streaming service has a lot to offer. You will always find something interesting to watch, from recent hit shows like Chernobyl to older ones like The Sopranos. Other great HBO shows worth mentioning include Westworld, Game of Thrones, and Barry. There are also several upcoming shows to get excited about. Check out a few others here.
In addition, HBO Max includes tons of additional content not found on HBO. That includes sitcoms like Friends, The Big Bang Theory, South Park, The Fresh Prince of Bel-Air, and TV dramas like Doctor Who and Pretty Little Liars. It also has classic and current Warner Bros. movies that are not currently on the HBO cable channel. You can also stream shows from WarnerMedia's other cable TV channels like TNT, TBS, TruTV, Adult Swim, Cartoon Network, and CNN. Finally, there are selections of movies from Criterion, along with anime from Crunchyroll and Studio Ghibli.
HBO Max retails for $14.99 a month. There's also a new, cheaper plan, at $9.99 a month, but it throws in up to four minutes of ads per hour. It also won't let you access the 2021 Warner Bros. theatrical movie day-and-date slate. It's definitely not the cheapest service on this list, but it's still worth the money because of all the great content it offers.Try HBO Max
16) Paramount Plus
Formerly known as CBS All Access, Paramount Plus combines a ton of content from its parent company ViacomCBS into one product. You can watch tons of classic and current movies from Paramount Pictures, plus TV shows from CBS, Comedy Central, MTV, Nickelodeon, BET, and much more.
In addition to content on-demand, the service offers live national and local news along with live sports like NFL football, soccer, NCAA basketball, and more. Pricing in the US starts at $4.99 a month, but it lacks the live CBS stream and throws in ads. You have to spend $9.99 a month to get the live CBS stream and get rid of ads.Try Paramount Plus
---
17) Disney Plus
If you don't already know about Disney Plus, we'd be surprised. The service launched in mid-November in the US and other parts of the world. It is a great Netflix alternative if you have kids, with tons of classic and current family movies and TV shows to watch under one service. You can watch nearly all the Pixar, Star Wars, and Marvel Cinematic Universe movies on Disney Plus as well.
The price for Disney Plus on its own is currently $7.99 a month, or $79.99 for an annual subscription. There used to be a seven-day free trial, but it was recently discontinued. However, you might also be able to get it free. It's currently available in the US, Europe, and other international locations, and will expand to more countries in 2021.Try Disney Plus
18) Pluto TV
Pluto TV has become hugely popular over the last year, mainly because it's completely free to use. It actually offers two streaming services. One is formatted like a cable TV provider, offering hundreds of channels to stream. You can watch live news coverage from several outlets, or watch classic films and TV shows.Try Pluto TV
---
19) Shudder
Shudder is the best of the Netflix alternatives for horror movie fans. Even if you are not a fan of the genre, Shudder might make you one with its diverse programming. The service always has some original movies it debuts every month, and they almost always get great reviews for how they stretch the horror genre.
It costs $5.99 a month in the US, or you can sign up for an annual subscription for $56.99, or $4.75 a month. It also has a seven-day free trial.Try Shudder
---
20) Britbox
Like Acorn TV, Britbox is one of the best streaming services devoted to British TV content. You can watch tons of comedy, drama, and most especially the many great British detective dramas that have been released over the decades. Doctor Who fans can also watch all of the "classic" episodes from the sci-fi drama on Britbox. Best of all, fans of the classic British soap operas like Eastenders, Coronation Street, and more can watch new episodes on Britbox just hours after their UK debut. The service also continues to add new shows to its lineup.
In the US, you can get BritBox for $6.99 a month or $69.99 for an annual subscription. It's a great bargain for people who want an alternative to Netflix, and you can bet almost none of Britbox's content will be available on Netflix.Try Britbox
---
21) Apple TV Plus
Apple TV Plus is a great Netflix alternative right away because of its low price; it's just $4.99 a month. For that price, you can get high-quality shows made for families (Snoopy in Space, Helpsters) and series for adults (The Morning Show, See, For All Mankind, and more). Apple TV Plus continues to add new programs regularly.
While its library of content can't match Netflix's, its quality is certainly solid. Another big plus for this service is that it's available in over 120 countries right off the bat.Try Apple TV Plus
---
22) Peacock
After months of waiting, NBCUniversal's Peacock streaming service finally launched in mid-July 2020. Its biggest feature is that much of its content is free to stream (with ads), so you can watch classic series like Parks and Recreation, Two and a Half Men, Battlestar Galactica, and more. It's also the exclusive streaming home for Parks and Recreation and The Office in the US, and more recently, it added WWE pro wrestling, including access to its pay-per-view events.
If you want to watch even more content, and Peacock originals like the reboots of Saved by the Bell and Punky Brewster, you can pay $4.99 a month for Peacock Premium (with ads) or $9.99 a month (without ads). There is a seven-day free trial available.
23) Discovery Plus
Discovery Plus is the most recently launched major streaming service. It includes programs from the huge Discovery lineup of cable TV channels, plus a few from Lifetime and A&E. People who love watching homes get restored, or see couples get married after 90 days will love this streaming service. It also has a growing number of original shows, including spin-offs of shows like 90-Day Fiance and Ghost Adventures. You can also see new episodes from the upcoming Magnolia cable network, focusing on Fixer Upper's Chip and Joanna Gaines.
The price is much lower than that of Netflix, starting at $4.99 a month for an ad-based subscription and reaching $6.99 a month for an ad-free experience. There's also a seven-day free trial. Additionally, you can get up to a year of service for free if you are a Verizon Wireless unlimited customer.Try Discovery Plus
24) BoxTV (India)
If you're looking for Indian-made and -produced films, BoxTV is perfect. With movies in nine different languages (including Hindi, Bhojpuri, Kannada, and Urdu), the service offers hundreds of movies that will appeal to Indian audiences, no matter where they live; BoxTV is available in India, Singapore, the UAE, the UK, and the US.
BoxTV, compared to many other services, is also very affordable—at ₹199, £4.99, or $4.99, it's not much more than a cup of coffee. For that price, it's hard to beat if you're looking for Indian movies and shows.
25) Stan (Australia)
Although Netflix is generally considered to be the best streaming service in Australia, Stan is making a run for the top spot. The company has made deals with a lot of content providers, and has a number of exclusives, including Breaking Bad and Better Call Saul. Stan is also producing its own content to rival the shows and movies produced by other streaming services.
Its $10 per month price tag is tough to beat, especially with the wide variety of movies and shows that you'll find on the service, including a few things produced by Amazon, which will likely never make it to Netflix.
26) Yaveo (Spanish)
With the growing Spanish-language market becoming a serious economic force in the United States, it was only a matter of time until a Spanish-language streaming service debuted. DirecTV's Yaveo offers Mexican programming from Univision, Telemundo, and Caracol, as well as dubbed US programs from channels like Nickelodeon and MTV. Sports, movies, TV, telenovelas—it's all on Yaveo.
With both Latin American and Spanish content, Spanish speakers will find their beloved shows and movies here when they can't find them elsewhere. The fact that the service only costs $8 per month and doesn't require a DirecTV subscription adds to the already solid value.
27 Fandor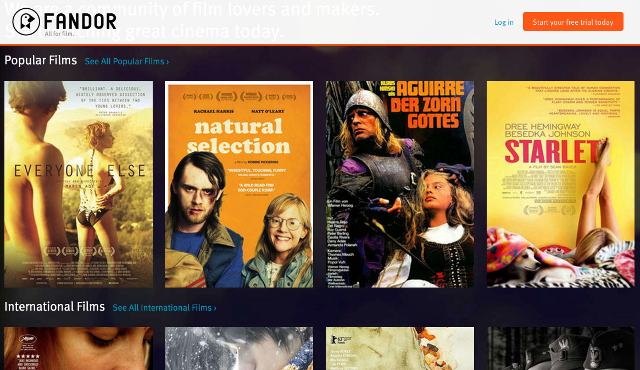 Are you into indie and foreign movies? If so, Fandor has you covered. Popular indie flicks like Insomnia and Blind, documentaries including Propaganda and 5 Broken Cameras, and quirky cult classics like Ichi the Killer and Dark Star are all available on this service. While you'll find some movies here that are also on other services, this is definitely the place to look for movies you can't find anywhere else.
Plans start at only $7.50 per month, and half of what you pay goes back to the rights owners of the movies, so you can be confident that you're supporting the indie and foreign film industries by becoming a member.
28) M-GO
A newcomer to the online streaming scene, M-GO aims to become your one-stop shop for movies and TV shows. Because they're new, the selection isn't quite as good as some of the other services, but it's growing quickly, and this site could be a major player in the very near future. The site itself is one of the biggest advantages of the service; it's well-organized, can help you find lots of things that you're looking for, and provides great recommendations.
M-GO doesn't provide unlimited streaming like Netflix or Amazon, but serves as a portal through which you can buy movies and TV shows (like iTunes). It also allows you to accrue rewards points to save money on future purchases.
---
Bonus – Other Netflix alternatives
Other Netflix alternatives that are available include:
Starz – The cable TV channel also has a streaming version. It offers thousands of movies, some classic TV shows, and recent shows like Power, Outlander, and many more.
Showtime – Here's another cable TV channel with a streaming component. Its biggest draw is its acclaimed list of exclusive shows, including Homeland, Billions, and many more.
Epix – This premium movie channel has many original and exclusive shows, including War of the Worlds, the Batman-themed drama Pennyworth, and Godfather of Harlem.
Conclusion
So, these are the top 15 alternatives to Netflix for watching movies, TV series and documentaries in HD quality. Using these Netflix alternatives, you can watch from popular to old classic movies without any interference.
Now, I have done my job. it's your time to choose best alternative and enjoy your favorite movie or TV series.
Did you know any good Netflix alternative which deserve to be on this list?
Or if you have any doubt or query, you can drop a comment below.